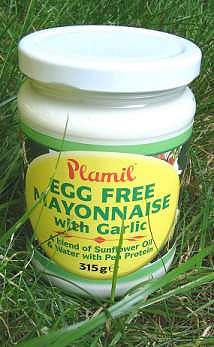 Free Vegan Recipes & New Product News - Healthy, Delicious & Nutritious
: "Glastonbury revellers may be swimming in Egg Free, dairy free, vegan mayonnaise not mud" say Plamil, UK pioneers of plant milk products."
Adrian adds "One of our clients recommends it as emergency festival all over body sun-block too, but it's not something we would recommend unless you have a good friend who's keen to lick it all off "
"There's a big demand for organic Dairy free, egg free, vegan and vegetarian food at these festival events. It makes no sense for caterers to have various brands when they can have gallons of one vegan one that pleases everyone" says catering consultant Tony Bishop-Weston from Foods For Life.
Last year Glastonbury was a mudbath. This year it's predicted to be mayo not mud.
Picture of muddy Glastonbury 2004
c/o BBC
Vegan Festival Mayo at Glastonbury