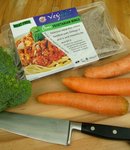 Vegan Winner for Foods For Life Health Food Awards 2006
The new stars of healthy Vegetarian and Vegan catering,
Redwood Wholefoods
, have won yet another Healthy eating Award to add to their impressive list of achievements. The
Foods For Life
Nutritious and Delicious Award 2006.
Redwood's Food products are loved by everyone not just those on vegetarian and vegan diets. Redwood Foods Award winning products now include:
Redwood Cheezly
- The world's first melting dairy free vegan cheese - fantastic on Pizza or on Toast. Declared "heaven on toast" by a spokesperson from the
Vegetarian Society
Redwood Cheatin Chicken and Bacon
- Egg free, meat free dairy free vegan rashers and Award winning realistic meat free vegan chicken peices.
Redwood Veggie Deli Range
- Includes ready to eat vegan sausages (once called the Rolls Royce of Veggie sausages by Virgin Radio) award winning Falafels (now in
Starbucks
) and the award winning fishless fish range.
The Redwood food policy of making products suitable for everyone and incredibly delicious aswell as nutritious means they are increasingly becoming the No 1 choice for retailers and caterers alike.
See the
Redwood Foods
Website at
www.redwoodfoods.co.uk
or meet them in person at The
Bristol Vegan Fayre
or The
London Vegan Festival
See also
Innovation in Health Food Industry