Vegetarian Visitor UK Vegetarian Travel Guidebook
: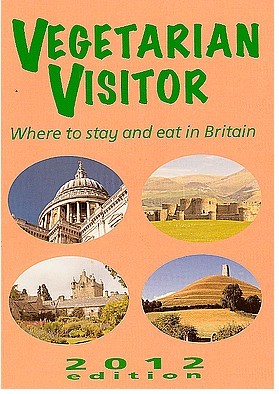 2012 edition of the annually updated UK Vegetarian travel guide book Vegetarian Visitor winner of Vegetarian Award and used by The BTA / British Tourist Board is now out and on sale
Vegetarian and Vegan friendly restaurants, pubs, cafes, hotels, B&Bs, guesthouses in England, Scotland and Wales
From Glasgow to Oxford, from Stratford to Cornwall, from London to Edinburgh delicious vegetarian treats to delight everyone. Take a peek now
Order a copy now, it's only £4 including postage to Europe.
Vegetarian Restaurants Hotels, B&Bs, Guest Houses in Britain / UK
To order a copy in the EU at £4.00 (post free), email your credit card details to a.weitzel@live.co.uk or phone
. Alternatively please send a cheque payable to Jon Carpenter Publishing to JCP Sales, 2 Home Farm Cottages, Sandy Lane, St Paul's Cray, Kent BR5 3HZ.
In the USA the guide is available from Independent Publishers Group at $5.95. Please call 1-800-888-4741 or go to www.ipgbook.com (IPG accepts credit card payments).
Vegetarian Scotland
Vegetarian Wales