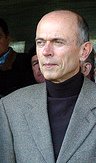 EVANA Janez Drnovsek, ex-Slovenian president who helped lead country to independence, dies en
Vegan President Janez Drnovsek dies.
Mild-mannered but resolute, Drnovsek became a political icon in part for working to keep violence at a minimum when Slovenia gained independence in 1991. He later led the country to European Union and NATO membership.
Republic of Slovenia