Vegans Sales of Vegan & Free From Foods saves Environment
Vegan companies such as Plamil tend to have a broader outlook on business ethics, it's not just a focus on health foods, they look at ethics and environmental issues too.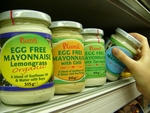 Plamil have been given consistently high marks for their products by Ethical Consumer magazine, source the bulk of their ingredients from worker co-operatives where possible and are converting their chocolate factory over to using more sustainable 100% renewable energy -- possibly a world first for confectionery manufacturing.
"The market for Free-From foods has increased dramatically over recent years but local independent retailers are now beginning to take advantage and catch this emerging market" says MD AdrianLing.
" We have wide range dairy free and egg free products to fill the gaps on the local retailers' shelves and help them take full advantage of a growing market for environmentally friendly health foods"
World Vegan Day
is November 1st