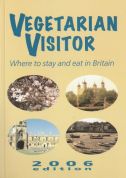 Vegetarian Visitor - UK Vegetarian Guide book 2006
Looking for weekend breaks, short breaks, beds and accommodation in Britain with recommended meals for vegetarian diets?
Out now, The latest edition of the No 1 vegetarian, annually updated, GB guidebook to approved cafes, recommended restaurants, best B&B, great guest houses, best pubs and good hotels in England, Scotland and Wales. Top places and best venues in United Kingdom catering for vegetarian and vegan meals.
Buy the guidebook now
for only £2.50 or check out the
online directory
. Used internationally by the
British Tourist Authority
London Nutritionist
Yvonne Bishop-Weston
says "Most of us could benefit from eating more nutritious vegetarian and vegan meals and this book sets out to help us"
More
at
PR WEB News